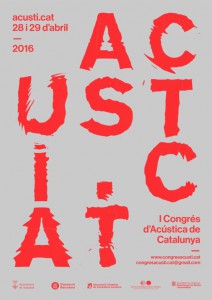 With more than 70 speakers, 25 entities highly involved in this topic and more than 200 experts working in the field, Acusti.CAT will be an opportunity to debate, share and understand all the topics related to environmental noise. The Congress is going to be held in Sabadell on 28+29/04/2016.
The initial conference will be given by the European expert Colin Nugent, Project manager for Noise at the European Environment Agency, and 15 challenges and dilemmas will be shared and discussed after that among all the participants. Discussion topics will cover from soundscape in cities of the future and networks of sensors measuring noise and its integration into the smart cities projects, to topics such as the strategic noise maps and action plans as useful management tools to cope with environmental noise and neighbourhood noise evaluation and mediation.
The SGR-Interfase group of the UAB – Geography Department will participate in Acusti.CAT and will discuss the challenge 01 together with other experts in the field.
More information about the congress is available in the following page:http://www.congresacusti.cat/#/inici