The INTERFASE team (Research Group on Inclusive Governance and Territorial and Coastal-Marine Sustainability) is a collaborative transdisciplinary team of researchers and external collaborators from different academic disciplines, whose core is at the Geography Department of Universitat Autònoma de Barcelona (UAB). The activities of the group started in 1992 by Dr. Françoise Breton. The group has a long established reputation for delivering excellent research, particularly with regard to studies on coastal management and environmental issues. The group has closely collaborated with institutions such as the European Environment Agency (EEA) and the UNEP/MAP. One of its main achievements has been the coordination of the FP7 PEGASO project, which designed integrated policies for the coastal, marine and maritime realms of the Mediterranean and Black Sea Basins.
Currently, the research team is cordinated by two principal investigators: Antònia Casellas, with research experience in Johns Hopkins University, University of Toronto and Indiana University among others, she has a PhD on Urban Planning and Policy Development from the Rutgers University of USA; and Eduard Ariza, with a Fulbright post-doc in the Florida International University, he is a Ramón y Cajal researcher with a PhD in Marine Sciences from the Universitat Politècnica de Catalunya.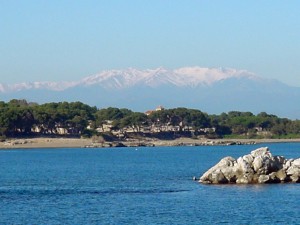 The INTERFASE promotes researches in analysis, planning and integrated management of coastal zones, natural resources and open areas (protected and rural areas, etc.) from the study of socio-environmental changes in space and time and the sustainability of environmental and spatial policies. Since its foundation, the research group develops an intense work of supporting to administrations and stakeholders in the study and integrated assessment of spatial problems in areas of contact or interface between society and environment: analysis and management of coastal and marine zones, socio-environmental problems linked to human activities and processes of land use change, planning and social adaptation to climate change, land and ecosystems accounting, ecosystem services, cooperation networks in regional, trans-statal and cross-border areas, spatial processes of migrations and climate change.
INTERFASE  team has also been the coordinator of several European Topic Centers (ETCs) that have supported the work of the European Environment Agency: ETC on Terrestrial Environment (2001-2006), the ETC on Land Use and Spatial Information (2007-2010), and the ETC on Spatial Information and Analysis (2011-2014). INTERFASE has worked offering assessment at European level on: integrated management of coastal and marine zones, building indicators and producing spatial data for the sustainable development, development of methodologies of environmental analysis, analysis of socio-environmental issues and development of geo-information systems.
Currently, researchers of INTERFASE team participates in two of the ETCs of the European Environment Agency:
Since 2005, the INTERFASE team holds the distinction as Consolidated Group of Quality Research (SGR), awarded by the Directorate General for Research of the Generalitat de Catalunya for the professional, scientifical and academic carreer of the research team. The SGR disctinction of the research group has been renewed in 2009, 2014 and 2017.